Marv Bramlett
Chairman of the Board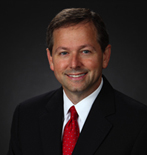 Marv D. Bramlett began his professional career at Electronic Data Systems (EDS, now Hewlett-Packard). After almost a decade at EDS, he helped launch an Internet startup company. Marv's professional experience includes sourcing privately held business opportunities for a Texas-based private equity firm.
Marv serves on the Board of Trustees of The Institute for Policy Innovation (www.ipi.org) on the Advisory Board of Brighter Dallas (www.brighterdallas.com), and also on the Executive Finance Election Committee for Texas State House Representative Kenneth Sheets (HD107).
Marv holds an Executive MBA from the University of Texas at Dallas and completed an International Residency at The Grenoble Graduate School of Business in Paris, France. He earned an undergraduate degree in Communication from Lee University. Marv and wife Sabina, an attorney, are active in their community and volunteer at their daughters' schools.