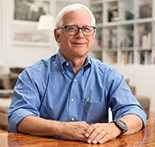 David R. Henderson is an Emeritus Professor of Economics at the Naval Postgraduate School in Monterey, California, a Research Fellow with the Hoover Institution at Stanford University, and a Senior Fellow with Canada's Fraser Institute. He was previously a senior economist for health policy and for energy policy with President Reagan's Council of Economic Advisers.
David is the editor of The Concise Encyclopedia of Economics, the only reader-friendly encyclopedia of economics, and has written 2 other books, The Joy of Freedom: An Economist's Odyssey and Making Great Decisions in Business and Life (co-authored with Charles L. Hooper.) As well as publishing in academic journals, he has written over 300 articles for such popular publications as the Wall Street Journal, New York Times, Barron's, Fortune, Los Angeles Times, Washington Post, USA Today, Chicago Tribune, National Review, Defining Ideas, and Reason.
He has testified before the House Ways and Means Committee, the Senate Armed Services Committee, and the Senate Committee on Labor and Human Resources. He has also appeared on C-SPAN, CNN, the Jim Lehrer Newshour, the John Stossel show, the O'Reilly Factor, the Ingraham Angle, MSNBC, RT, NPR, CBC, and the BBC.
Born in Canada, he moved to the United States in 1972 to earn his Ph.D. in economics at UCLA. He became a U.S. citizen in April 1986.