David B. Moseley
Member of the Board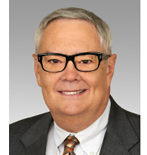 David B. Moseley, Jr. is an attorney with the firm Glast, Phillips & Murray and practices in the area of corporate, real estate and business law representing local and national business entities. In this capacity he handles a broad scope of corporate and business transactions and issues such as entity structure, dispositions and acquisitions of assets and the companies which own them, real estate transactions and operational legal issues encountered by most businesses.

David has served an Adjunct Instructor at Richland College teaching a course in Law and Ethics and he is a frequent speaker and panelist on legal topics. He is a former section chair of the Dallas Bar Association and a former chair of the Finance Committee of the Board of Trustees of Dallas Baptist University. He has served as a member of the Board of Trustees of the Baylor Health Care System Foundation as well as the Boards of Directors of Dallas National Bank and VisionForge Venture Development Company.

David received his B.A. from Baylor University and his J.D. from Southern Methodist University.