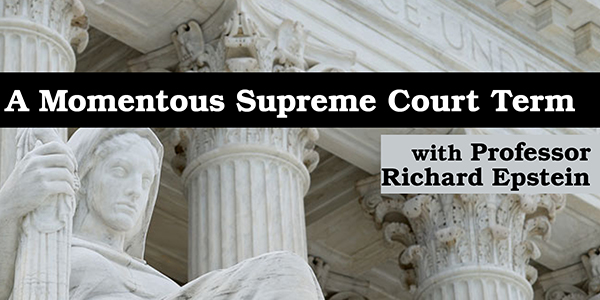 This Supreme Court term ended with the release of several momentous decisions, most notably the Dobbs decision which, overturned Roe and Casey. But it also included a major religious exercise decision (Kennedy v. Bremerton School Dist.), a significant administrative law decision (West Virginia v. EPA), and an important Second Amendment decision (New York State Rifle & Pistol Assn., Inc. v. Bruen).
Conservatives and proponents of limited government are generally pleased with these and other results from this term, while media "experts" proclaim that "our democracy is in danger" from a supposedly radical Court.
Please join the Institute for Policy Innovation on July 19 at 1 pm Central for a review of this remarkable Supreme Court term with renowned law professor, legal scholar and longtime friend of IPI Richard Epstein. We'll hear from Professor Epstein about these and other cases he thinks are noteworthy, and get his thoughts on what appears to be a new era for the Supreme Court.
This virtual event will be presented on Zoom by the Institute for Policy Innovation. While allowing Professor Epstein as much time as possible, we will also take a number of questions from participants. We hope you can join us!
Tuesday, July 19, 2022
1:00 PM - 2:30 PM Central
For additional information or questions please contact
Addie Crimmins at addie@ipi.org or 512.787.8102