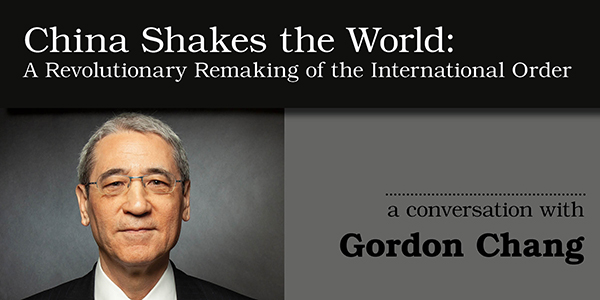 What's going on in China? Is their economy built on a house of cards that must inevitably tumble? To what degree is China a technological and military threat to U.S. interests? And is China simply interested in dominating their sphere of influence, or does China have a much bigger plan for itself and the world?
Join the Institute for Policy Innovation on October 22nd for "China Shakes the World: A Revolutionary Remaking of the International Order," our next Hatton Sumners Distinguished Lecture Series luncheon, with author Gordon Chang. We are delighted to resume the Distinguished Lecture Series after an 18-month delay due to the Covid-19 pandemic.*
Gordon G. Chang is the author of The Great U.S.-China Tech War and Losing South Korea, booklets released by Encounter Books. His previous books are Nuclear Showdown: North Korea Takes On the World and The Coming Collapse of China, both from Random House.
Chang lived and worked in China and Hong Kong for almost two decades, most recently in Shanghai, as Counsel to the American law firm Paul Weiss and earlier in Hong Kong as Partner in the international law firm Baker & McKenzie.
His writings on China and North Korea have appeared in The New York Times, The Wall Street Journal, The National Interest, The American Conservative, the International Herald Tribune, Commentary, National Review, and Barron's. He also writes for The Daily Beast.
Friday, October 22, 2021
12:00 PM – 1:30 PM CST
Hilton Anatole
2201 North Stemmons Freeway
Dallas, TX 75207
For additional information or questions please contact
Addie Crimmins at addie@ipi.org or 512.787.8102
*We will be following recommended and venue-specific policies and procedures for holding events during the Covid-19 pandemic, and we ask our guests to respect these policies.