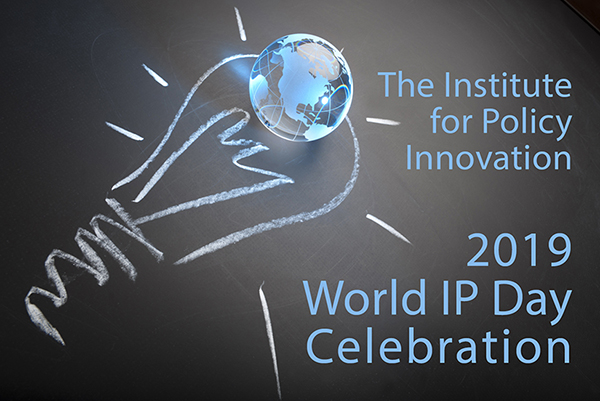 Please join the Institute for Policy Innovation (IPI) on Tuesday, April 30th as we host our 2019 World Intellectual Property Day Celebration in Washington D.C.
Speakers and Topics
The Honorable Doug Collins
Ranking Member, House Judiciary Committee
John Sandage
Deputy Director General, World Intellectual Property Organization (WIPO)

Shira Perlmutter
Chief Policy Officer and Director for International Affairs, United States Patent and Trademark Office

Dr. Doug Holtz-Eakin
President, American Action Forum
"Proposed Reforms to Medicare Part B Threaten Innovation"

Philip Thompson
Policy Analysis for Trade & IP, Property Rights Alliance

Rob Atkinson
President, Information Technology and Innovation Foundation
"Countering the IP Critics"

Adam Mossoff
Professor of Law, Antonin Scalia Law School
"How the U.S. Lost Its Gold Standard Patent System and How to Get It Back"

Frank Cullen
Vice President of U.S. IP Policy, Global Innovation Policy Center, U.S. Chamber of Commerce

Stanley Pierre-Louis
Acting CEO and General Counsel, Entertainment Software Association

Panel Discussion:
"The Music Modernization Act and Remaining Challenges for Music"
Todd Dupler
Senior Director for Advocacy & Public Policy, Recording Academy
and
Shannon Sorensen
Vice President for Government Affairs & Counsel, National Music Publishers Association
When and Where
Tuesday, April 30, 2019
10:00 am – 1:00 pm
National Press Club
Fourth Estate Room
529 14th St. NW
Washington, DC 20045
Complimentary lunch provided.
**This event is widely attended.
Co-sponsored by the World Intellectual Property Organization.