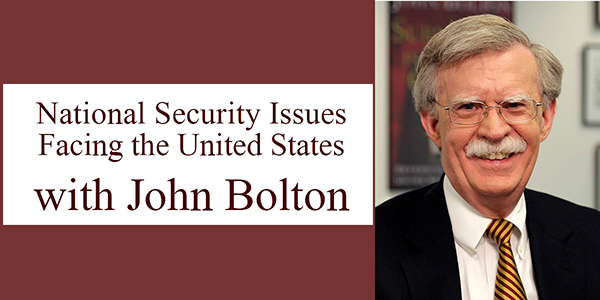 With Russia threatening the use of nuclear weapons in Ukraine, China menacing Taiwan, protests in Iran and tensions with the Saudis, national security and foreign policy issues are once again topping the news and concerning American policymakers.
That's why the timing could not be more perfect for the Institute for Policy Innovation (IPI) to welcome Ambassador John Bolton for our next Sumners Distinguished Lecture Series.
Ambassador John Bolton has served numerous positions in the Reagan, George H.W. Bush, George W. Bush and Trump administrations, most recently as the National Security Advisor to President Donald Trump. Ambassador Bolton is a graduate of Yale University and Yale Law School, and is the author of a New York Times bestselling memoir, The Room Where It Happened.

Thursday, November 10, 2022
Noon - 1:30 pm

Omni Mandalay, Las Colinas
221 East Las Colinas Blvd Irving, TX 75039
For additional information or questions please contact
Addie Crimmins at addie@ipi.org or 512.787.8102