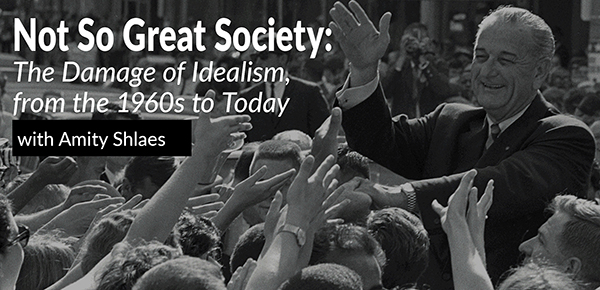 Uncanny parallels exist between our recent politics and the Great Society era of the 1960s. Then, many saw socialism as the generous philosophy. Today, socialism is again in vogue. Then, government was viewed as an easy and the only way to solve intractable problems. Today we turn to government to manage everything from viruses to office politics. Then, enormous spending programs were enacted in the name of attaining a more just society. Now social equity is used to justify great spending. Then, populist economic policies like tariffs, price controls and pro-labor reforms were politically popular. Now such ideas are on the rise again.
As we embark on a repeat of the 1960s, it's worthwhile therefore to go back and look at the record of 1960s generosity. As author Amity Shlaes shows in her book Great Society, in the 1960s and 1970s, this supposedly generous philosophy and its policies did not produce generous results. Indeed big hearted social programs actually exacerbated the very problems they were intended to solve, increasing dependency, driving inflation and economic stagnation, and discouraging Americans about their future prospects. "Nothing is new, it's just forgotten," as Miss Shlaes reminds in her much-praised book.
Please join the Institute for Policy Innovation (IPI) on Friday, September 30th for our next Sumners Distinguished Lecture Series luncheon featuring historian and best-selling author Amity Shlaes. Individual, student and VIP tickets are available, along with table sponsorships. VIP and table purchasers will receive a copy of "Great Society: A New History" and join a VIP reception with Amity Shlaes prior to the luncheon. This luncheon is underwritten by a generous grant from the Sumners Foundation.
Amity Shlaes is the author of the New York Times bestsellers The Forgotten Man: A New History of the Great Depression, Coolidge, and The Greedy Hand: How Taxes Drive Americans Crazy. She chairs the board of the Calvin Coolidge Presidential Foundation and serves on the jury of the Manhattan Institute's Hayek Book Prize.
For additional information or questions please contact
Addie Crimmins at addie@ipi.org or 512.787.8102