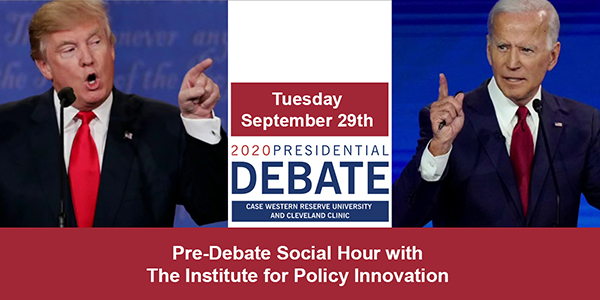 Are you as pumped as we are about the upcoming 1st presidential debate? It might just be the super bowl of political drama. But before the debate and before the spinners start spinning we'd like for you to join us in a pre-debate discussion.
Tuesday, September 29 the Institute for Policy Innovation (IPI) will be hosting a virtual pre-debate social hour from 6:45 to 7:45 PM, featuring our friends:
Mark Davis

, host of the Mark Davis Show on 660 AM The Answer and Dallas Morning News columnist;

Matt Mackowiak

, Chairman of the Travis County Republican Party, political consultant, Washington Times columnist; and

Wade Emmert

, former Chairman of the Dallas County Republican Party, current General Counsel to the Republican Party of Texas, and member of the IPI Board of Trustees.
So grab your popcorn, or nachos, and a drink, wear your political garb, and join us! You'll get to hear our guests' take on what to expect from the debate, and you'll have a chance to ask you own questions.
6:45 – 7:00 Open Social Hour
7:00 – 7:45 Hosted Discussion
7:45 End of our program and let the fireworks begin.
Join the Institute for Policy Innovation virtually on Tuesday, September 29!