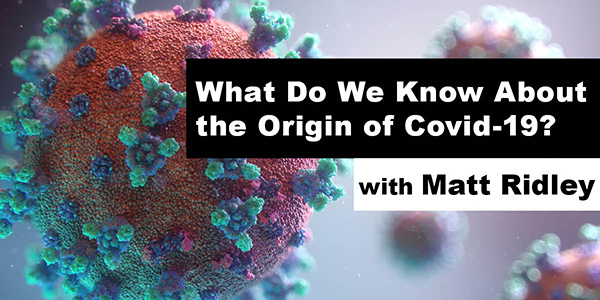 Did Covid-19 just pop out of nature and spread from a "wet" market, as we were first told? Was it modified in the Wuhan lab through gain-of-function research? What do we know, and what does the evidence suggest?
Understanding how Covid-19 started is crucial for the future of humankind, and Viral, the new book from science writer Matt Ridley and Dr. Alina Chan, is the most incisive and authoritative book about the search for the source of the virus.
In the book, Ridley and Chan examine how a virus whose closest relations live in bats in subtropical southern China began its spread more than 1,500 kilometers away in the city of Wuhan. They grapple with the baffling fact that the virus left none of the expected traces that such outbreaks usually create: no infected market animals or wildlife, no chains of early cases in travelers to the city, no smoldering epidemic in a rural area, no rapid adaptation of the virus to its new host—human beings.
And of course, there have been new developments and insights since the publication of the book, including the Omicron variant, and further genetic investigation.
Please join the Institute for Policy Innovation (IPI) on February 3 as we host author Matt Ridley for a virtual policy discussion about his and Dr. Chan's new book. You will also be able to buy a copy of Viral during event registration.
Matt Ridley is the author of books that have sold well over a million copies in 32 languages, including The Rational Optimist and How Innovation Works. In his bestseller Genome and in his biography of Francis Crick, he showed an ability to translate the details of genomic discoveries into understandable and exciting stories. He recently retired as a member of the House of Lords in the UK.
Dr. Alina Chan is a postdoctoral researcher with a background in medical genetics, synthetic biology, and vector engineering. At the Broad Institute of MIT & Harvard, Dr. Chan is currently creating next generation vectors for human gene therapy. During the COVID-19 pandemic, Dr. Chan spearheaded the development of the COVID-19 CoV Genetics (covidcg.org) browser for scientists worldwide to rapidly track virus lineages and mutations by locations and date ranges of interest.
Thursday, February 3, 2022
11:00 AM CENTRAL
For additional information or questions please contact
Addie Crimmins at addie@ipi.org or 512.787.8102