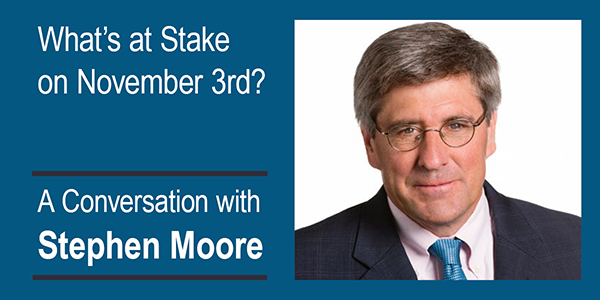 One of the most consequential elections of our lifetimes is coming up in just a few weeks. So we thought this would be a great time for an update from longtime friend of the Institute for Policy Innovation Stephen Moore.
On Tuesday, October 27—just one week before the election—please join the Institute for Policy Innovation for "What's at Stake on November 3rd: A Conversation with Stephen Moore."
Stephen Moore is a frequent guest on Fox News and other media outlets because of his deep insights on both policy and politics. One of the most influential economists in the conservative movement, Steve has had a tremendous impact on conservative economic policy for over 30 years.
Stephen Moore has been both a formal and informal advisor to candidate Donald Trump and to the Trump administration. His unique insights will give us an unparalleled perspective on the policy accomplishments of the Trump administration and a sober reminder of what is at stake on November 3.
Please join the Institute for Policy Innovation virtually on October 27 as we host our friend Stephen Moore. Participation for this event is free and is underwritten by our sponsors. You will have an opportunity to make a sponsoring donation at registration.
Tuesday, October 27, 2020
1:00 PM CENTRAL (2:00 PM Eastern)

For additional information or questions please contact
Addie Crimmins at addie@ipi.org or 512.787.8102