A Defense of Liberty and Global Capitalism with Johan Norberg
Hatton Sumners Distinguished Lecture Series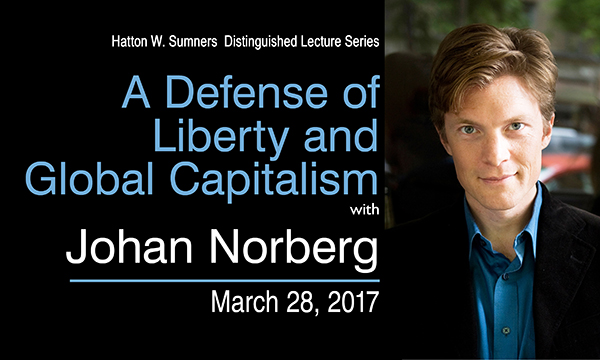 Few speakers and writers today are as persuasive as Johan Norberg in making the case for liberty and global capitalism as the best means of encouraging human progress. That's why the Institute for Policy Innovation is bringing internationally acclaimed author, speaker and documentary filmmaker Johan Norberg from his native Sweden to Dallas on March 28 to kick off our 2017 Hatton W. Sumners Distinguished Lecture Series.
Norberg has a long and distinguished track record promoting the benefits of free markets, beginning with his 2001 international best-seller In Defense of Global Capitalism. In 2011, he hosted PBS's "Free or Equal," which revisits and updates Milton Friedman's famous "Free to Choose" documentary. Norberg also published Financial Fiasco about the 2008 financial crisis, which The Spectator named one of its "Best Books of 2009" and most recently "Progress: Ten Reasons to Look Forward to the Future" (2016).
Today, when free trade and globalization are facing increased skepticism in the U.S., Norberg's optimistic message about trade and capitalism as natural outgrowths of liberty is particularly timely. IPI is delighted to be bringing Johan Norberg to Dallas, and we hope you will join us.
Norberg received his M.A. in the History of Ideas from the University of Stockholm, and is a Senior Fellow at the Cato Institute and at the European Centre for International Political Economy. He is the recipient of the Distinguished Sir Antony Fisher Memorial Award, and of a gold medal from the German Hayek Stiftung.
We hope you can join us!
When:
Tuesday, March 28
Noon – 1:30pm
Where:
Belo Mansion
2101 Ross Avenue
Dallas, TX 75201