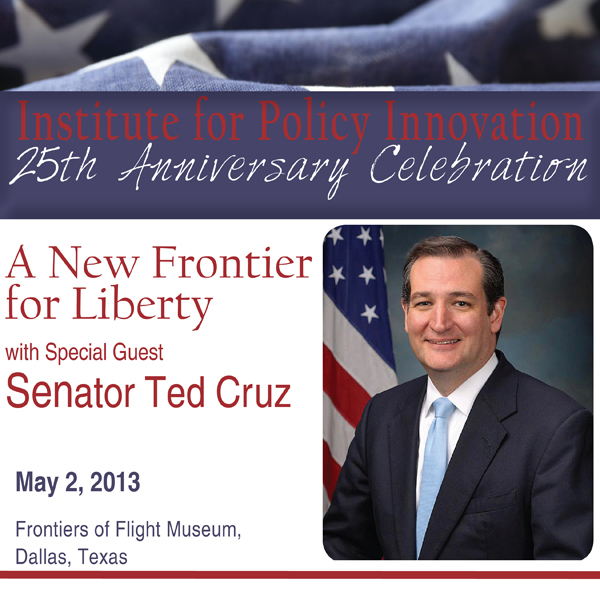 Don't miss your chance to have dinner with Texas Senator Ted Cruz and be a part of "A New Frontier for Liberty," the 25th Anniversary Celebration of the Institute for Policy Innovation (IPI).

IPI is honored to host Senator Cruz, one of the conservative movement's exciting new leaders, as we celebrate 25 years of advocating lower taxes, fewer regulations, and a smaller, less-intrusive government. And we look forward to working together with Senator Cruz to rein in Big Government and restore America's founding Constitutional principles.

Please reserve your place now by joining us as a table sponsor at one of the levels listed on our event registration site, so that you can be part of the VIP Reception with Senator Cruz and other elected officials and special guests. Individual tickets are also available for $150 each.

Don't miss it!
Event Details:
Thursday, May 2, 2013
Frontiers of Flight Museum
6911 Lemmon Ave, Dallas, Texas
Master of Ceremonies: Mark Davis, 660 AM-The Answer
VIP Reception: 5:30 pm
General Reception: 6:00 pm
Dinner: 7:00 pm
Business Attire
Honorary Host Committee
Congressman Joe Barton
Congressman Marsha Blackburn
Congressman Michael C. Burgess, M.D.
Konni Burton
Comptroller Susan Combs
Congressman Mike Conaway
Senator John Cornyn
Harlan Crow
State Representative Myra Crownover
Mina & Bulldog Cunningham
Julie & Robert Driegert
Debbie Georgatos
Congressman Louie Gohmert
Randall Goss

Congressman Jeb Hensarling
Terry & Don Hill
Dee Kelly, Jr.
Thomas Giltner & Peggy Lundy
Congressman Kenny Marchant
Geraldine "Tincy" Miller
Congressman Randy Neugebauer
Russell Ramsland
Congressman Pete Sessions
Congressman Steve Stockman
State Representative Jason Villalba
Jimmy & Carl Westcott
Chart Westcott
Congressman Roger Williams