Michael Barone: Making Sense of a Baffling Election
IPI Speaker Series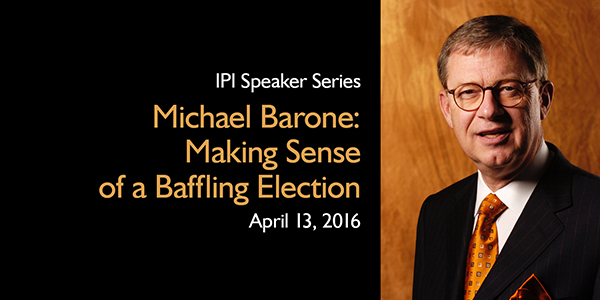 With both parties' presidential primaries in full swing, it seems the conventional wisdom about candidates and elections just doesn't apply in 2016's race for the White House.

Join the Institute for Policy Innovation (IPI) on April 13 in Dallas as we welcome Michael Barone, Senior Political Analyst for the Washington Examiner, co-author of The Almanac of American Politics and a contributor to Fox News.

"The November elections will arguably determine which side will control all three branches of the federal government," said Barone. "And many of America's strongly partisan voters may put aside qualms about one candidate or another to increase the chances their side wins." So what surprises lie ahead in an election in which "electability" has not been a major factor?

Don't miss this exciting event as Barone discusses how changing populations and voting patterns are confounding this unprecedented and baffling election.
Wednesday, April 13, 2016
Renaissance Dallas Hotel
11:30am - 1:30pm