Voter Fraud and the 2012 Election
IPI Speaker Series

John Fund
Author and Columnist
Have Republicans exaggerated the incidence of vote fraud?
Are voter ID laws really that important?
How significant is the recent court ruling to throw out Texas' new voter ID law?
If polls remain close, the chances of a contested election in which lawyers battle it out in the courts over disputed results and alleged fraud are high. We could see recounts similar to the Florida Bush vs. Gore battle in more than one state.

The legitimacy of our electoral process is at risk this November without necessary reforms to stop the ongoing crisis of voter fraud and the widespread system of careless vote counting.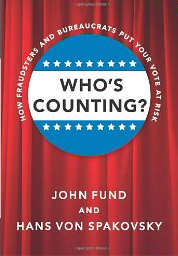 Join us Wednesday, October 10 as author and National Review columnist John Fund discusses why voter fraud matters more in this election than ever before. John will also be signing copies of his new book "Who's Counting? How Fraudsters and Bureaucrats Put Your Vote At Risk," co-authored with Hans Von Spakovsky.

You won't want to miss this terrific event!

Individual tickets are available. Table and event sponsorships are also available, and include signed copies of John's new book for every member of the sponsored table!
Wednesday, October 10, 2012
Noon
InterContinental Hotel Dallas
15201 Dallas Parkway
Addison, TX 75001