2017 World IP Day Celebration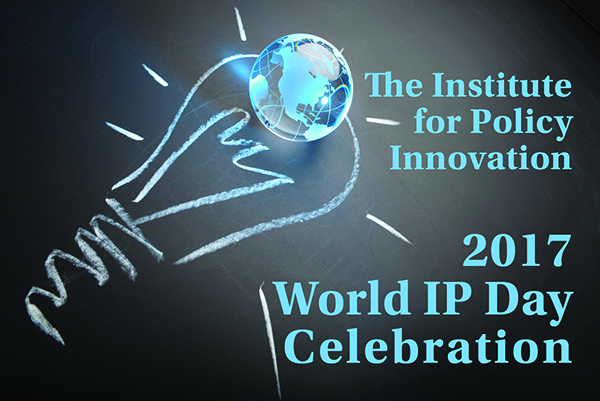 Please join the Institute for Policy Innovation (IPI) for our annual celebration commemorating World Intellectual Property Day. Our afternoon policy forum will be held at the Reserve Officer's Association Symposium Room, followed by a reception in the ROA atrium.
Program
IP and Trade - What Now?
Remarks by Commissioner F. Scott Kieff, U.S. International Trade Commission
Introduction of Director John Sandage
Senator Charles Grassley (R-Iowa), Chairman, Senate Judiciary Committee
A Message From WIPO - Innovation: Improving Lives
John Sandage, Deputy Director General, Patents and Technology Sector, World Intellectual Property Organization
The Importance of IP to the U.S. Economy
Frank Cullen - Executive Director for Domestic IP Policy, U.S. Chamber of Commerce
Follow the Money - An Age of Counterfeit and Theft
Moderated by IPI's Dr. Merrill Matthews
The Digital Advertising Supply Chain: Mike Zaneis - President and CEO, Trustworthy Accountability Group
Piracy and Malware, A Single Problem: Tom Galvin - Executive Director, Digital Citizens Alliance
Who Is Making Money on Piracy? Brad Buckles - Executive Vice-President, Anti-Piracy, Recording Industry Association of America
Plundering Video: The Pirate Set-Top Box - David Green, Vice President, Public Policy, NBCUniversal, Inc.
Hot Topics: Creations of the Mind Meet the Law
Moderated by Bartlett Cleland
The Threat to Innovation from the U.N. High Level Panel on Access to Medicine - Stephen Ezell, Vice President, Global Innovation Policy, Information Technology and Innovation Foundation
The Supreme Court on Patents: Where Is It Going? Dmitry Karshtedt, Professor of Law, George Washington University Law School
Can Artificial Intelligence Be Patented? Larissa Park, Partner, DLA Piper
When:
Tuesday, April 25, 2017
Policy Conference 2:00 pm to 4:30 pm
Reception 4:30 pm to 6:00 pm
Where:
Reserve Officers Association (ROA)
1 Constitution Avenue Northeast
Washington, DC


*This event is widely attended
Questions? Please contact Erin Humiston at erin@ipi.org or (972) 874-5139.