Vermont's state motto should be: We never let evidence get in the way of our progressivism. (Come to think of it, maybe that should be the motto for all progressives.)
That fact has been made obvious once again with the state's new prescription drug importation scheme.
The Vermont legislature has passed, and the governor has signed, legislation that would allow Vermont-based wholesalers to import drugs from Canadian wholesalers. The law must be certified by the U.S. Department of Health and Human Services (HHS). Good luck with that because it is against the law for individuals or businesses to import prescription drugs that are not certified by the U.S. Food and Drug Administration.
Nevertheless, several states and cities have set up importation schemes over the years claiming their residents needed access to cheaper drugs. Those programs eventually closed because of lack of interest, but new ones are emerging.
However, since the passage of the Medicare Modernization Act in 2003, which created a prescription drug benefit for seniors in Medicare, and the Affordable Care Act, nearly everyone has access to prescription drug coverage—if they want it.
More importantly, prescription drugs allegedly coming from or through Canada still pose a health risk. Several years ago Congress passed legislation allowing the importation of prescription drugs as long as the secretary of HHS would certify that they are safe. No subsequent HHS secretary, Republican or Democrat, has been willing to do so.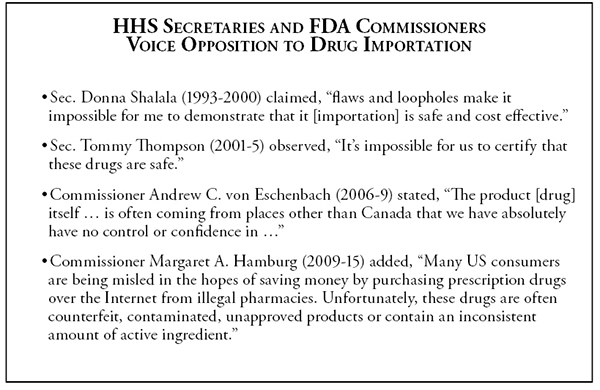 The FDA and Department of Justice have fought prescription drug scam artists for decades, but the battle goes on. Here's the headline from a DOJ press release in April: "Canadian Drug Firm Admits Selling Counterfeit and Misbranded Prescription Drugs Throughout the United States."
According to the press release, "In 2010, it came to the attention of the FDA that Canada Drugs was shipping to health care providers in the United States prescription drugs that were unapproved in the United States, labelled with foreign languages, and that lacked adequate instructions for use."
The companies involved were forced to forfeit $29 million, plus pay a fine of $5 million and serve five years probation.
To be sure, U.S. citizens cross the Canadian border and buy small amounts of prescription drugs for personal use from brick-and-mortar Canadian pharmacies, which are very safe. While it isn't legal, federal authorities generally ignore the practice—just as the highway patrol often ignores people driving a little faster than the posted speed limit.
But importation schemes like Vermont's become ripe for criminals and fast-buck scam artists, who may only claim they are Canadians abiding by the law.
If Vermont politicians don't care about the health and safety of their citizens, let's hope the FDA and DOJ do.