May 7, 2014
More Ad Dollars Flow to Pirated Video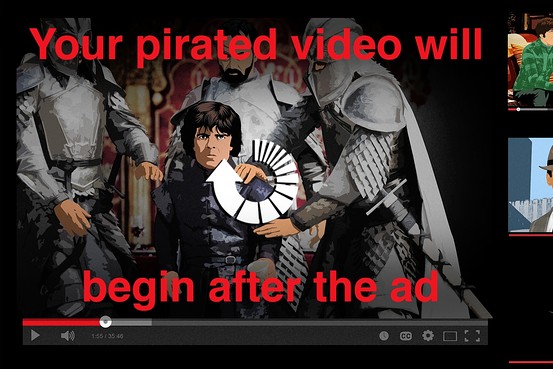 Great piece in today's Wall Street Journal on ad-supported piracy.
Many people still think of piracy as a victimless crime; or rather, of a crime that affects a victim that they don't care about: Big Content, or whatever disparaging name they prefer to use. They like to convey the idea that piracy is simply people "sharing" content that they "care about."
But piracy is big business, and people are profiting from piracy. Valuable content is valuable, and people are going to make money off of valuable content. The only question is whether the profit-makers are those who invested in the creation of the content, or whether it's just parasites who are making the money.
Piracy websites are the criminals, but companies and networks that advertise on those piracy websites are the enablers. And it's appropriate to put pressure on companies and ad networks to ensure that their ads don't run on websites trafficking in illegal content.
In February, nonprofit Internet safety group Digital Citizens Alliance commissioned MediaLink to research how much money these sites are making. MediaLink examined 596 sites where viewers can find pirated movies and TV shows, and estimated those sites generate a total of $227 million in advertising revenue annually. Even "small" piracy sites could make more than $100,000 a year from ad space sold to major brands, the report said, because they don't pay for their content. The profit margins of the sites examined could range from 80% to 94%, based on the costs typically associated with maintaining such sites, which include hosting fees and human resources.
Take zzstream.li, for example, which helps users unearth and stream unlicensed video owned by companies including Home Box Office Inc., Warner Bros. Entertainment Inc. and Lions Gate Entertainment Corp. In March, it featured advertising for brands including Kraft, Toyota, Target, Honda, Lego and Claritin. The site reached 1.34 millioni people in March, according to online measurement firm com Score.
The way this happens is that advertisers contract with ad-placement networks that are simply looking for clicks and eyeballs wiithout regard to whether the website is reputable or not.
But some say ad networks and technology companies don't do enough to stop advertisers from appearing alongside potentially illicit content. According to the Motion Picture Association of America, some companies knowingly sell ads on piracy sites because it's lucrative to do so.
"Although there are many ad networks servicing these pirate sites, some of the same names come up over and over again. This suggests that while the industry as a whole has some cleaning up of its act to do, there are some significant players that appear clearly to be turning a blind eye to blatant infringement—and profiting from it." said Farnaz Alemi, Vice President, Global Content Protection Counsel, Internet Operations at the MPAA.
Last year, the Annenberg Innovation Lab at University of Southern California attempted to track which ad networks display the most ads on illicit file-sharing sites. Its research found that a handful of companies routinely ranked among the worst offenders, including Propellerads, ExoClick, and Adcash. According to the lab's director, Jonathan Taplin, those companies simply ignore the nature of the content on the sites they work with.
blog comments powered by

Disqus